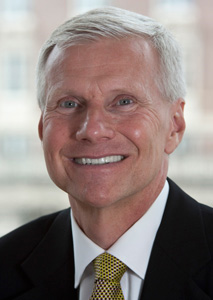 "The intersection of business and technology has always been at the heart of the College."

— Steve Salbu,
Dean and Stephen P. Zelnak Jr. Chair
The year 2012 has marked an historic shift for our business school. A $50 million gift from an alumnus, Ernest Scheller Jr. (IM 1952), led to a new name for our College and tremendous opportunities for our students and faculty. This remarkable act of philanthropy was a major milestone along our path to becoming the world's preeminent business school for technology and business.
What this means for you is that there has never been a better time to become a part of our collaborative College community, build your network through our impressive roster of students and alumni, and prepare yourself for a world of career possibilities. We offer top-notch programs at the undergraduate, MBA, and PhD levels as well as customizable Executive Education programs for industry.
The intersection of business and technology has always been at the heart of the College. Our nationally ranked business school can teach you how to take advantage of the many business opportunities made possible by emerging technologies and to succeed in an increasingly global economy.
Thanks to the College's location in Technology Square – in the heart of thriving Midtown Atlanta – opportunities abound for our students and faculty to explore synergies between business and technology. This state-of-the-art setting ensures that students have access to all the latest learning tools and enables them to attend classes just around the corner from companies where they find fulfilling and challenging internships, co-op jobs, and careers.
Of course, the College's greatest resource is its people. Our professors enjoy a world-class reputation for their research and teaching, and our top-notch students go on to be entrepreneurs and corporate leaders successful at bridging the worlds of business and technology.
With the right people and programs in the right place, we're creating a new standard in business education. We encourage you to visit our distinctive learning community in person to see what sets us apart.
Steve Salbu
Dean and Stephen P. Zelnak Jr. Chair